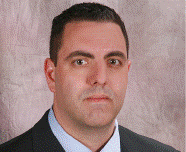 C. J. McElhinney has been an attorney since 2003.  Mr. McElhinney practices criminal defense, personal injury, civil rights, family law and general civil litigation.  Mr. McElhinney earned his Juris Doctorate from the University of New Mexico School of Law in 2003 and graduated from New Mexico State University in 2000 with a Bachelor of Arts in Government. Prior to completing his education, Mr. McElhinney served as an infantryman in the United States Marine Corps and is a graduate of the Marine Corps Recruit Depot at Parris Island, South Carolina, and the Marine Corps School of Infantry at Camp Geiger, North Carolina.  The training and ideals he learned in the Marines still serve him well today as a practicing attorney.
Mr. McElhinney has handled thousands of cases throughout his career involving many different areas of the law.  In the area of criminal defense, he has tried dozens of cases to include nearly every single kind of case imaginable from traffic citations to first degree murder.  He has extensive experience in federal court as well as New Mexico state courts.  Mr. McElhinney was appointed to the Criminal Justice Act panel for the United States District Court for New Mexico in 2004 and was appointed to the Complex Felony Panel in 2009.  Attorneys on the CJA panel are experienced and capable attorneys appointed to represent defendants accused of serious crimes in federal court. Mr. McElhinney is attorney of record in over 1,200 cases in the United States District Court of New Mexico.  While Mr. McElhinney's practice has been mostly focused at the trial level, he has also represented clients in several appeals to appellate courts in New Mexico and has argued a case before the New Mexico Supreme Court.  He is an experienced attorney at every level of the justice system.
Mr. McElhinney is best known for his defense of Mixed Martial Arts fighter Joe Torrez in the infamous 2014 New Years home invasion case, which made international headlines.  Mr. McElhinney was able to rally the public to his client's cause and garnered the support of thousands throughout the United States and that rest of the world, ultimately resulting in Mr. Torrez being cleared of any wrongdoing.  Mr. McElhinney has also represented the Las Cruces Sun News and New Mexico In Depth in 2014 in their public records lawsuit to force the release of a mental health audit kept secret by New Mexico state government.  He has handled several other prominent and high profile cases, including the Columbus Gun Smuggling case and the Jeremiah Dowling depraved mind murder case, which resulted in a reversal of Mr. Dowling's first degree murder conviction in the New Mexico Supreme Court.  Mr. McElhinney has appeared on the Jane Velez-Mitchell show on CNN Headline News and has been mentioned in prominent media outlets such as the Huffington Post, the New York Daily News, the Wall Street Journal, the UK Daily News, TMZ and Sports Illustrated.
In addition to criminal defense, Mr. McElhinney has represented clients in personal injury, civil rights, and family law cases.  Almost always going up against institutions of power, Mr. McElhinney has been able to balance the scales of justice against insurance companies out to cheat injured victims of negligence, bad police officers that harm innocent citizens, and government officials who ignore the law and abuse their authority.
Mr. McElhinney has the reputation of being an aggressive trial attorney who is a zealous advocate for his clients.